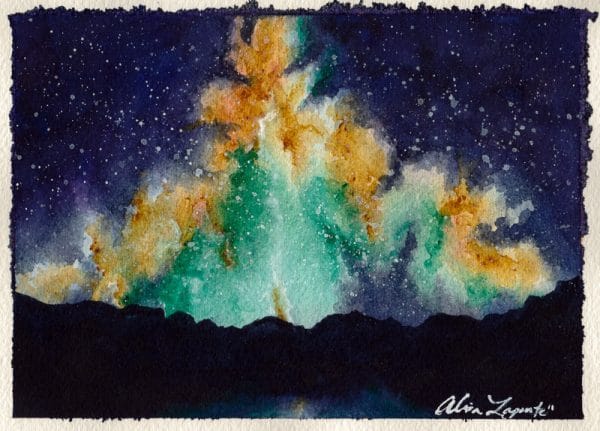 Watercolor of Aurora Borealis.  Check out this and other paintings in my Gallery. Also if you're interested in prints you can go to my print store at  https://fineartamerica.com/profiles/alisa-laporte/shop or you can click on PRINTS in my website.
Story:
The Aurora borealis is on my bucket list of things to see. And recently taught a class how to create galaxy paintings. So in preparation I did lots of experimenting. Trying different colors and shapes. Its a fun process of letting the colors mix and layering to reach the intensity you desire. Allowing the paints to be that loose and free can be a challenge for me. I like to render and make things look real. But I want to change that. I love what I paint, but I use watercolors. So I want to loosen up my style a bit. Creating these galaxy paintings has helped me and continues to help me.
This is not a print
You are buying the original, one of a kind painting!