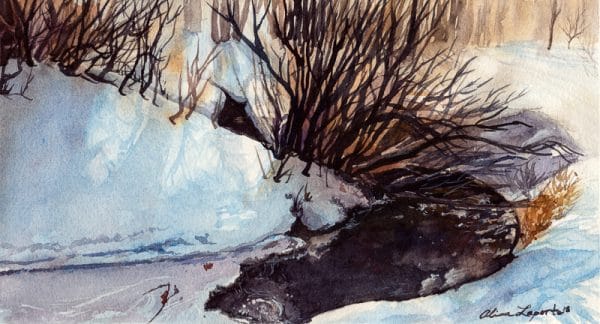 Creating a snow scene from the beautiful Snow Bird, where you can ski, snowshoe, and hike.
Story:
Painting snow scenes in watercolors is a great challenge. Snow is a difficult challenge in any medium. But with no white paint presents a different problem. You have to leave the white of your paper, but still create shadows and texture in your snow. My family went for a hike at snow Bird and it was too cold to bring my paints. So I took many reference photos to work from once home.  When working from home, you need to remember the feel of the snow scene. To transport your viewer to that place. I wanted you to feel the cold crispness of the air. But also feel warmth of the setting sun. To feel the quiet and peaceful surroundings of Snow Bird.   
This is not a print
You are buying the original, one of a kind painting!