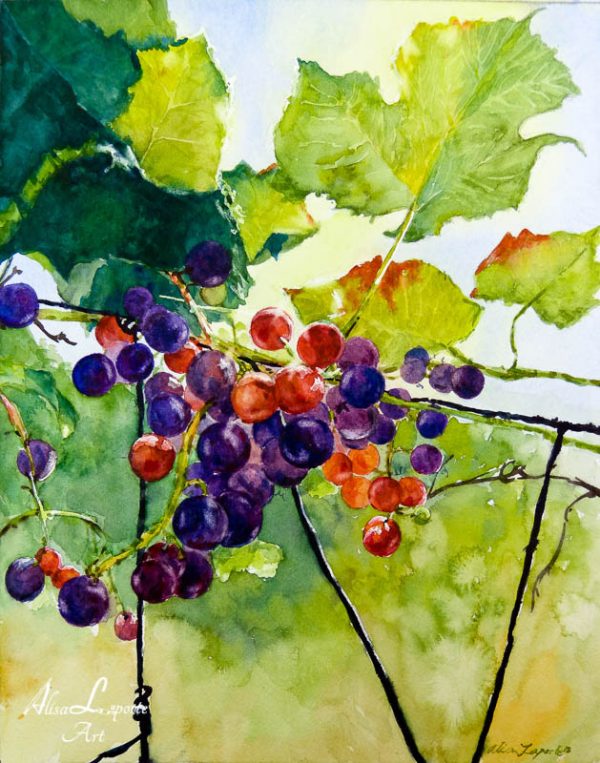 Sun Ripened
This painting is being juried.
It is not available for sale at the moment but check back often for more information.
Watercolor of sun ripened grapes. I just love fruit and the harvest season, grapes being one of our favorites. If you've never had fresh grape juice, I feel like it tastes how this painting feels. Like you are sitting outside enjoying the sun touching your skin. Living in Utah I never realized how many people grow grapes and how well they grow. I love being able to share this little known side of where I live. Check out this and other paintings in my Gallery. Also if you're interested in prints you can go to my print store at  https://fineartamerica.com/profiles/alisa-laporte/shop or you can click on PRINTS in my website.
Story:
During the harvest season in September-October just after the first cold shock, is the best time to pick grapes. Which I was doing on a warm fall day so I could make juice for the upcoming winter months. The sun was shining and creating a beautiful glow on the leaves, vines and grapes. I really wanted to paint and capture that beautiful moment. I wanted to remember that warmth and feel of the sun warming my skin. Because winters can be long here in Utah, and sometimes you need a reminder of warmer days.
This is not a print
You are buying the original, one of a kind painting!