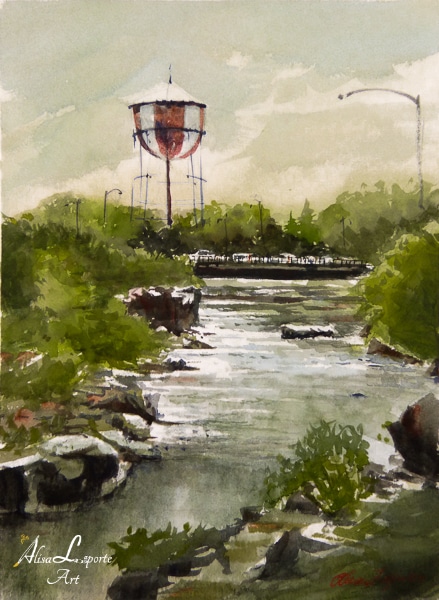 Watercolor of the Water tower in downtown Idaho Falls.
Story:
The water tower has been in the down town Idaho Falls area longer than I can remember. People come to the River walk which circles the Falls of Idaho Falls, and is about a 2 1/2 mile walk. Many are attracted to this area because of its beauty and the coolness the falls bring during the hot summer months. I was going to Idaho Falls and wanted to meet up with my college art professer. She suggested we meet by the River walk falls to do some Plein air painting. So we set up by the falls finding some shade to protect us. We decided on the water tower and the beautiful falls in front. The falls would lead the viewer to the tower and create a nice flow to the painting. It was wonderful to get outside and paint and to talk with my friend and professor.
This is not a print
You are buying the original, one of a kind painting!